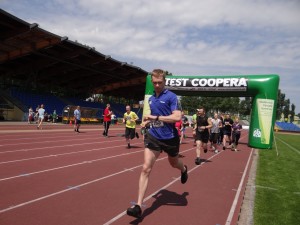 W niedzielnej (9 VI) akcji Test Coopera dla Wszystkich, organizowanej przez Akademicki Związek Sportowy OŚ Toruń na Stadionie Miejskim wzięło udział 249 uczestników, którzy pokonali łącznie trasę 596km, a więc jak z Torunia do czeskiej Pragi!
Test w Toruniu odbył się już po raz czwarty (pierwszy w tym roku) i spotkał się z bardzo dużym zainteresowaniem – warto tu dodać, że suma łączna ilość uczestników w ubiegłym roku wynosiła 200 osób (w edycji wiosennej i jesiennej).
Biegał każdy – najmłodszy uczestnik – Ola mająca 1,5 roku przebiegła z mamą 700 metrów! Brali udział w Teście studenci, strażacy, wojskowi, prawnicy, a także osoby z rozrusznikiem, czy poruszające się na wózku. To co najważniejsze, to fakt iż Test organizowany przez AZS stał się swego rodzaju imprezą rodzinną, w której biegają dzieci z rodzicami. Na uczestników porannych testów czekali członkowie Fundacji Biegam Bo Lubię, którzy to profesjonalnie poprowadzili rozgrzewkę dla wszystkich zainteresowanych, a podczas południowych sprawdzianów, w rolę startera wcielił się Konsul Honorowy Słowenii pan Jan Walczak. Oprócz tych niespodzianek, na każdego z uczestników czekał certyfikat i woda, a pierwszych 200 osób dostało pamiątkowe koszulki.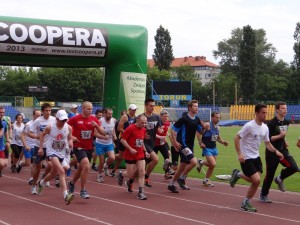 Test Coopera, który polegał na 12 minutowym ruchu (biegu, marszu) i sprawdzeniu swojej sprawności fizycznej wyszedł dosyć  Po biegudobrze., każdy z uczestników mógł na podstawie specjalnie przygotowanej tabeli, uwzględniającej płeć i wiek sprawdzić swoją kondycję fizyczną (były tam oceny od bardzo dobrej do bardzo złej). Na 249 uczestników, 106 osób uzyskało wynik bardzo dobry, 88 uczestników uzyskało wynik dobry, średni 35, a 20 osób musi zwiększyć swoją aktywność fizyczną.
Już teraz zapraszamy na jesienny Test Coopera w mieście Kopernika, który ponownie organizować będzie Akademicki Związek Sportowy OŚ Toruń najprawdopodobniej w drugiej połowie października. Więcej informacji będzie można uzyskać ogólnopolskiej stronie Testu testcoopera.pl/torun.
Wyniki Szczegółowe wyniki TCW w Toruniu

W razie pytań zapraszamy do kontaktu przez pocztę elektroniczną torun(at)azs.pl