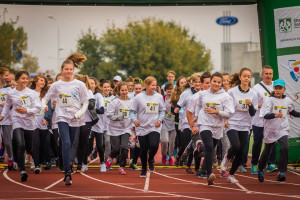 Ruszyliśmy z Jesiennym Testem Coopera dla Wszystkich w Warszawie. Tym razem są to trzy akcje, na Targówku, Ursusie i Ochocie.
Po raz drugi gościliśmy z wydarzeniem na Targówku i po raz drugi jesteśmy mile zaskoczeni frekwencją. 561 osób przyszło na stadion OSiR Targówek aby sprawdzić swoją kondycję fizyczną. Biuro zawodów oraz stadion pękały w szwach, szczególnie w godzinach porannych. Za rekordową frekwencję (346 osób)  należą się gratulacje uczniom, ich rodzicom i nauczycielom z Gimnazjum 142. Dla tej szkoły pobiegło zdecydowanie najwięcej osób co zapewniło im zwycięstwo w rywalizacji "Wybiegaj sprzęt sportowy dla swojej szkoły na Targówku" i tym samym główną nagrodę tj. czek od firmy Veolia Energia Warszawa o wartości 3500 zł na zakup sprzętu sportowego w sklepie DECATHLON Targówek. Wydarzenie Test Coopera dla Wszystkich przeprowadzone zostało w ramach obchodów 100 lat przyłączenia Targówka do Warszawy i jednocześnie w rocznicę 100 lat AZS w Warszawie. To właśnie 24 września 1916 r. odbyły się pierwsze międzyuczelniane zawody w Warszawie pod szyldem AZS: "Chód maratoński na trasie Tarczyn-Warszawa"
Test Coopera dla Wszystkich organizowany był na Targówku dzięki zaangażowaniu w wydarzenie OSiR Targówek (główny organizator), dzielnicy Targówek m.st. Warszawy. Realizatorem akcji jest AZS Warszawa. Elektroniczny pomiar zapewniła firma GEPARD.
Jeżeli nie udało Wam się dotrzeć na Targówek i sprawdzić Waszą kondycję fizyczną zapraszamy jeszcze do:
Warszawa-Ursus – OSIR Ursus ul. Sosnkowskiego 3 – 1.10.2016 r. 10:00 – 15:00
Warszawa-Ochota – 8.10.2016 r. stadion RKS SKRA ul. Wawelska 5 10:00 – 16:00